The Irish Jewelry Company's Blog
The Celts celebrated Halloween as Samhain, 'All Hallowtide' – the 'Feast of the Dead', when the dead revisited the mortal world. The celebration marked the end of Summer and the start of the Winter months.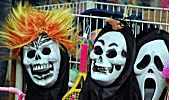 During the eighth century the Catholic Church designated the first day of November as 'All Saints Day' ('All Hallows') – a day of commemoration for those Saints that did not have a specific day of remembrance. The night before was known as 'All Hallows Eve' which, over time, became known as Halloween.
Here are the most notable Irish Halloween Traditions:
Colcannon for Dinner:
Boiled Potato, Curly Kale (a cabbage) and raw Onions are provided as the traditional Irish Halloween dinner. Clean coins are wrapped in baking paper and placed in the potato for children to find and keep.
The Barnbrack Cake:
The traditional Halloween cake in Ireland is the barnbrack which is a fruit bread…
View original post 727 more words